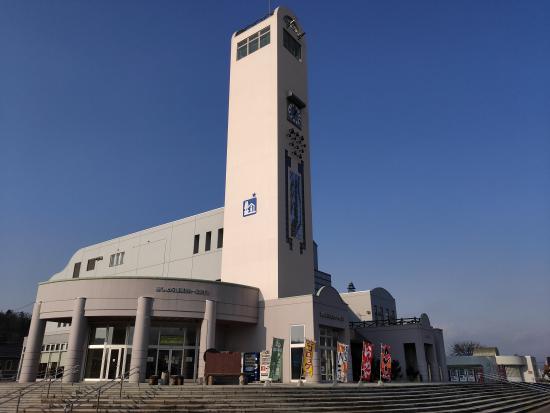 Michi-no-Eki Ashoro Ginga Hall 21 is a roadside rest area located at the intersection of National Routes 241 and 242. It is a convenient stop for visitors heading to Akan-Mashu National Park from points west, such as Sapporo, Daisetsuzan National Park, or Furano. Here, travelers can purchase refreshments, browse sightseeing information, and learn about the history of Ashoro. The rest area is about a 45-minute drive from Mt. Meakan and Lake Onneto.
Refreshments and sightseeing information
A spacious restaurant inside the main building offers a varied menu of Japanese, Western, and Chinese food, and a small bakery serves baked goods and sweets. The souvenir shop stocks local products such as jams, milk, and award-winning cheeses made in Ashoro. Multilingual sightseeing brochures and pamphlets about attractions in the area are available at the information window.
Local history and symbols of Ashoro
The Furusato Ginga railway ran through Ashoro from 1910 to 2006. A replica of the train tracks is now on display at Ashoro Ginga Hall 21, and the former Ashoro Station is located next to the rest area. The imprints of feet in cement squares around the station building are a reference to the Japanese word ashi, meaning "foot," from which Ashoro gets its name.
Nearby attractions
Satomigaoka Park, a 10-minute walk from the rest area, has a natural hot-spring footbath, a campground, and a large playground where children can run freely. The Ashoro Museum of Paleontology is a five-minute drive south. It houses a collection of fossils discovered in the area and skeletons of marine mammals, and offers hands-on educational activities.
This English-language text was created by the Japan Tourism Agency.